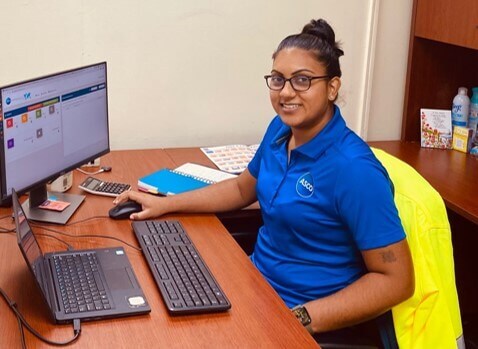 Samantha joined ASCO in February 2021 and is based at our Chaguaramas site in Trinidad as a Buyer within the Commercial team.
"My career started in the Food and Beverage Industry, where I began my Academics in Marketing. I got the opportunity for an Internship at BHP in the Materials and Logistics department, and this experience made me realize my passion for the Oil & Gas Industry. At this point I switched my Academic focus from Marketing to Business Management specialising in Logistics and Supply Chain Management. I then went on to work at CARIDOC in Chaguaramas, Trinidad, in the ship repair industry. From there, I worked at Oldendorff Carriers T&T as a Purchasing Officer, where I gained experience in purchasing in the dry bulk shipping and transportation industry. Presently as a Buyer, I love what I do, and my long-term goal is to become a Supply Chain Manager."
What attracted you to ASCO?
ASCO was part of my first experience in the Oil & Gas Industry through my Internship with BHP in 2014. Ever since being at the ASCO Chaguaramas base, I knew that Oil & Gas Logistics and Supply Chain Management was my destiny, and seven years later, here I am.
Describe your role?
My job entails fulfilling customer requests in the right quantity, condition, at the right time and price. For the most part, I interact with various suppliers on a daily basis for quotations and coordination of deliveries. A big part of my role is finding ways to improve the Supply Chain Network at ASCO Trinidad.
What do you enjoy most about your role?
I enjoy providing support to my co-workers and the thrill of fulfilling requests from the cradle to the grave.
How would you describe ASCO in a few words?
ASCO encourages employee engagement, opportunities for advancement, fairness and flexibility.
What would you say sets ASCO aside from its competitors?
I believe that a true ASCO employee has an unquestionable dedication that is irreplaceable. We take pride in our jobs, and we work in cooperation with each other. This dedication is what gives ASCO a competitive edge over the others.
What would you say to someone considering joining the company?
Prepare for a fast-paced environment that will test your multi-tasking ability. ASCO has employees with a wealth of experience who are always willing to share their knowledge and experiences.
Describe the ASCO culture in a few words?
ASCO exemplifies safety, honesty, integrity, dependability, dedication and compassion.
Would you say you live by the ASCO culture? Please provide examples.
I would say I live by the ASCO culture because safety does not end when I leave for the day. Being at ASCO has made me more conscious and increased my safety awareness while at home and even while driving. I also believe in honesty and integrity in all aspects of life, not just while working.
What in your words is the legacy of ASCO? What is it they bring to Trinidad?
The legacy of ASCO in Trinidad is the quality of work our clients receive. ASCO employees are highly skilled in all areas of the industry, and our digitalised systems and structured processes make ASCO run an efficient operation.
Focussing on one of the two ASCO obsessions (Safety excellence and Service excellence) can you provide an example of how you have played a part within your role at contributing to these obsessions?
I believe that my role as a Buyer contributes to ASCO's service excellence. ASCO believes in transparency with its clients, and as a Buyer, I too must be honest and transparent in fulfilling my role.
Detail of further learning
You can never stop learning. Having achieved my MBA, a Diploma in Mechanical Maintenance Technology and various short courses, I intend to undertake more studies related to Procurement, Logistics, Engineering and Business Management