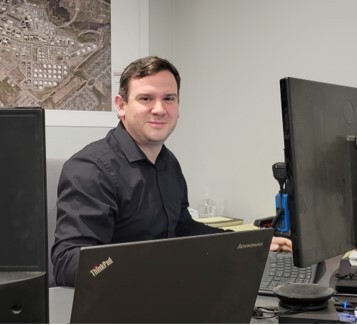 Mark Young started with ASCO in 2019 as Warehouse Team Leader Equinor operating out of the Marathon Operations base in Peterhead, UK.
Having gained 12 years of experience working with a large Oil Service Company through a variety of roles, Mark brought well-rounded knowledge to ASCO of the complete project management process from procurement to invoicing.
As Warehouse Team Leader, Mark was responsible for ensuring smooth operations between both the Operations and ICU Project Warehouse teams. Mark was also involved on the final stages of the ASCO Warehouse Management System (WMS) deployment with Equinor.
In May 2021 Mark moved into the position as Operations Manager based in New Brunswick, Canada.
What is your current role and what does it entail?
In May 2021 I was given the opportunity to transfer to ASCO Canada to work with a client as the Operations Manager for their warehousing. Having never previously worked with the client, I was fully involved with the onboarding of a new team and in establishing ASCO within a large Oil Services company. We made some immediate warehousing operation improvements and have lots of opportunities to expand on this going forward.
What do you enjoy about your role/the company?
I have been able to establish a great team here in New Brunswick who are keen to learn and move forward with the initiatives we are laying out. I also receive great support from the Innovation team who advised and guided me forward with desired goals for our client. As New Brunswick is a new location, there is a lot still to do.
Tell us a bit about the ASCO working environment
One of the things that I have experienced in my time at ASCO is that there is a great support structure within the company. Everyone is working towards the same goal to ensure that we can supply the best possible service to our customers in the safest way possible. This applies to all areas from HSSEQ, Invoicing and everything in between - everyone is willing to help out someone in need.
Tell us your thoughts on the ASCO culture
I have worked in many places that have claimed to put safety first. This is quite often right up until safety needs to be sacrificed for operations. ASCO is possibly the only place that always lives by its core obsessions. My team here had the benefit of having been introduced to some ASCO AMB (ASCO Management Board) members during our set up in the new location. The overriding message which was passed to them is that safety is our first priority, making sure that they can get home to their loved ones at the end of each shift.
What have you learned/gained from working at ASCO?
During my time at ASCO I have had the great benefit to expand my understanding of LEAN methodology and how that applies to warehousing. This knowledge allowed me to strive to meet the customer expectations for Equinor and now in the set up of the warehousing operation in New Brunswick.
Any comments on your career development
I feel that I have been extremely lucky to have the opportunities that I have been given within ASCO. I have been challenged and so far, feel that I have succeeded in those challenges. I look forward to further cementing the relationship between ASCO and our client in New Brunswick and look forward to future developments within the company.