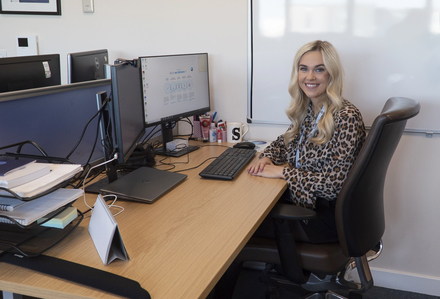 Shannon Stewart originally started with ASCO in 2019 during her third year of her Business Management degree at the Robert Gordon University in Aberdeen. Within the 12-month placement, Shannon worked as Operations Support Administrator based at Aberdeen Quayside.
Due to unforeseen circumstances a few months into the placement, Shannon was asked to cover the challenging role of Resource Coordinator. This involved co-ordinating both quayside squads and plant, as well as ensuring all members of the squads were trained and competent.
Shannon commented: "It was a very demanding and high-pressure role, but I was definitely grateful for the opportunity and completed my years placement a much more confident, competent and knowledgeable individual."
In 2021, Shannon joined ASCO's Energy industry recruitment arm, OBM, as Recruitment Consultant.
What is your current role and what does it entail?
I was lucky enough to re-join ASCO a year after I graduated from university, currently working within the OBM team as a Recruitment Consultant. I work with a range of people every day from clients to candidates. The main purpose of my job is to match candidates with suitable positions, allowing them to advance in their career journey. There is also the flip side where I work with clients to provide them with candidates of the highest quality to work within their company.
What do you enjoy about your role?
I enjoy the fast pace of the job and the excitement of gaining new vacancies to work on, but also the satisfaction that can be gained from it. An enjoyable week for me will consist of building relationships with existing and new candidates and placing people into new roles, whether it be temporary or permanent.
Tell us a bit about the ASCO working environment
I work within a small team of four at the moment. Being quite new, I feel like we are all finding our feet together and pulling on each other's experiences to broaden our knowledge. The team is enthusiastic and supportive of one another, and I feel we all work extremely well together to get the job done to the best of our abilities.
By having this morale amongst the team, it allows us to create a positive working environment to thrive and enables us to give our clients the best possible service.
Tell us your thoughts on the ASCO culture
The ASCO culture to me has always felt very inviting, from the moment I started to where I am now. Whether it be management, or fellow employees I have always felt included and valued in the teams I have worked in, and I have no hesitations in approaching anyone in the company.
With that, I feel there is always room to grow within ASCO with the right attitude and determination. This is an extremely important part of the culture and this encourages people to perform to the best of their ability.
What have you learned/gained from working at ASCO?
I'm not sure where to begin on this point as I feel I have learned a huge amount since I started here.
In my time at Albert Quay, I learned a vast amount about the quayside operations, processes, procedures, vessel movements, co-ordinating manpower and plant… the list goes on! I started my time there with no O&G experience whatsoever and left with a huge amount of not only knowledge, but practical experience that I absorbed from my extremely knowledgeable and experienced peers.
My time now, as a recruitment consultant is also a huge learning curve for me, and I am learning new things and building on my knowledge every day.
Any comments on your career development
I feel very thankful to be in the position I am at the moment and the opportunities I have gained so far in my time at ASCO. I'm grateful to be encouraged to further my knowledge and embark on new training. I know I am supported and valued here which encourages me to perform to my best ability.