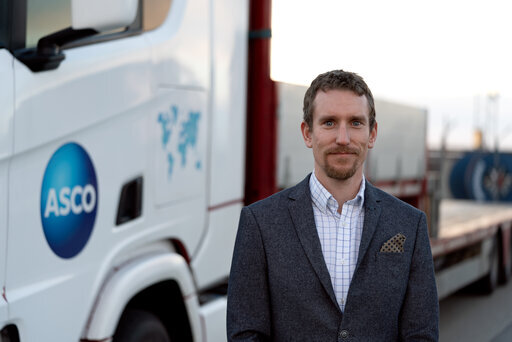 Ole Kjetil Borsheim joined ASCO in early 2019 after gaining 11 years of logistics management experience from the Royal Norwegian Navy.
Starting out as Quayside Superintendent, Ole Kjetil was able to learn about the Oil and Gas industry working on tendering processes, holding operational meetings with our clients, while having the operational responsibility for the marine, quayside and backload operations and actively working to give clients the best possible service before moving to Operations Manager in March 2020.
In September 2020 Ole Kjetil progressed into his third position with ASCO as Freight Management Manager based in Tananger, Norway.

What is your current role and what does it entail?
I currently work as a Manager for the Norwegian Freight Management. I love the role because it's so complexed and diverse, and that my days are never the same.
In Freight Management we handle all aspects of customs, Freight Forwarding, transport and project logistics. We strive to deliver great service to our clients while having safety as our main priority. As a Manager my area of responsibility is very diverse. Safety, clients, tenders and economy are some of my day to day tasks. I`m very thankful that I have an excellent team. They know how to get the job done safely while keeping the service at the highest level.
What do you enjoy about your role?
One of the things that sets Freight Management apart from other departments is that we have a multi-role system. Every one of us is able to do other tasks than the ones we normally do. This is something I really appreciate because it makes us very resilient in times of change, and it also gives us great opportunities to learn and develop different sets of skills. Having many hats leads to a varied workday where no days are alike, and I find that very motivating. I also enjoy working with so many different people and the special areas of expertise Freight has to offer.
Tell us a bit about the ASCO working environment
I`m very proud of my Freight Management team here in Norway. They are positive, motivated and highly qualified. They know how to get the job done safely and ensures Service Delivery Excellence to all our clients every day. We help each other and work together as a team. I believe this makes us stronger, both by creating a safe, positive and efficient work environment and by giving our clients the best service possible.
Across all of my roles at ASCO, the same dedication and professionalism is reflected through the whole organisation. This tells me that ASCO is a great company that not only has highly qualified personnel but also has a great culture.
Tell us your thoughts on ASCO's culture
ASCO is a company with authentic values, and this is reflected in its culture. We have a very safe work environment because safety is such a high priority. ASCO takes care of their employees and there are always career development opportunities for the ones that are hardworking and that have desires to grow within the company. I believe that having a safe work environment where the employees are seen and appreciated as individuals is a big part of why ASCO has so many highly skilled and dedicated employees. Which in turns gives us the opportunity to provide Service Excellence to our clients.
What have you learned/gained from working at ASCO?
I have learned and evolved a lot since I joined ASCO two years ago. I started with no experience within the O&G sector, supply base operations or Freight Management. Through my relatively short carrier at ASCO, I have gained knowledge and experience which have helped me grow both as a person and as a leader.
Any comments on your career development?
ASCO is a great company and I`m very thankful for the opportunities I have had to grow and evolve since I started my career at ASCO. When I resigned from the Norwegian Royal Navy, my hopes were to find an employer where my hard work and results would be valued. A place where I could grow and get new challenges as I evolved. The last couple of years have been filled with new knowledge and experience and I know ASCO supports my goals for the future. I`m proud to be a member of the ASCO family.