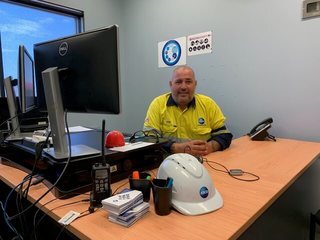 Originally from Glasgow, Scotland, John Cowan has been with ASCO since October 2010 and works as the Darwin Supply Base Manager, Australia.
Starting out as a supply base operator predominantly working on inventory management, forklift driving, casing cleaning and inspection for Eni, John has worked his way up through multiple roles to his current position.
Over the past 10 years, John has held various roles across the HSSEQ department including HSSEQ Advisor where he worked on the initial implementation of AIMS at the business unit as well as gaining accreditation to standards. John then moved into a HSSEQ Senior Supervisor role where he managed the Northern Territory HSSEQ systems including training, security and auditing.
What is your current role and what does it entail?
I manage the Darwin Supply Base but have recently also taken on the role of managing the Darwin Marine Supply Base to cover our current Manager's maternity leave.
Like many ASCO businesses, the management focus is on safety leadership, customer service, stakeholder engagement, regulatory compliance and profit and loss accountability. Both supply bases are pivotal hubs in our customer's supply chains for both their offshore and onshore assets. The safe handling of materials, receipt, management and dispatch as well as vessel scheduling and outbound and inbound quayside work management can make some interesting challenges. At the end of the day this gets done because we have an amazing team who knows how to get the job done safely whilst working to deliver each customer's particular tasks requirements.
What do you enjoy about your role/the company?
The ability to learn and develop - we wear many hats in Darwin which allows for the development of skills sets. I see this as a key function to ensure we offer the best value to our clients/customers but just as importantly, our employees.
Tell us a bit about the ASCO working environment
We have a great team in Darwin who is always ready to go that extra mile to ensure we deliver Service Delivery Excellence to our clients and customers.
It is also extremely hot with lots of crocodiles, poisonous spiders and snakes, for a wee guy from Glasgow. That took a while to get used to it and after almost 20 years in the top end, I am still adjusting!
We have two seasons in the North Territory - wet and dry. We are currently at the start of the wet meaning tropical monsoonal weather and the risk of cyclones developing off the coastline. This means, the weather adds another risk factor to all tasking which makes the focus on Safety Excellence even more prevalent.
Tell us your thoughts on the ASCO's culture
We have excellent leadership and safety culture in Australia led by Michael Fulham and James Stuart. We are all working during a difficult time in our industry, not to mention COVID-19, but because of our culture and attitudes we are stronger for it.
What have you learned/gained from working at ASCO?
There is too much to mention - I have gained experience in so many fields from report writing, P/L, operational management and development to name but a few, ASCO Australia has taken the time and effort to develop me to the person I am today, I am extremely proud to be where I am currently.