Calum Macdonald, from Aberdeen, Scotland was sourced by OBM, ASCO's recruitment solutions agency and recently moved to Norway to take up a position at ASCO as Offshore Logistics Coordinator.
Read Calum's story to find out how the position came about and how he coped with moving to a new country below.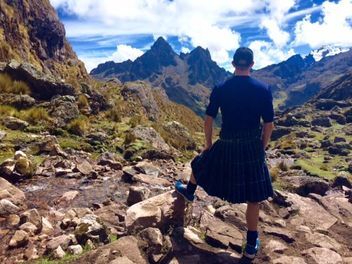 Name: Calum Macdonald
Age: 29
Job title: Offshore Logistics Coordinator
Likes: Living a healthy lifestyle, travel, hiking, golf, coffee.
How my journey over the North Sea began
Monday 25th January 2021, a bright, winters day in the North East of Scotland. The UK had been in lockdown since December 26th but fortunately we were allowed to exercise outside once a day. Scotland, with its own set of guidelines different to the rest of the UK, allowed golf to continue with restrictions. I had just finished the 6th hole when my phone rang. It was Keir Ferguson, a Senior Recruiter from OBM recruitment who I known for a number of years. He told me an exciting opportunity had arisen for work as an Offshore Logistics Coordinator in Norway. However, with the current COVID-19 situation it would be different to the usual offshore contract I had been used to in the past. I was immediately intrigued to hear more.
Mariusgenser interview
I was sent over further details of the role and it was exactly what I was looking for. An overseas contract, being able to educate and develop others, embrace a new culture and most notably, being actively involved in the future of the Energy supply chain. A week later, I looked out my best Mariusgenser (wooly jumper) and joined a Teams call with ASCO Norge which included the HR manager, Logistics Superintendent and Personnel Placement Coordinator. The team immediately made me feel relaxed, it was an informal interview with many insightful questions asked. It was clear that they were looking for the right personality, someone who is open minded, able to adapt to new cultures while bringing new ideas into the business. They also wanted to ensure that the role was right for me. I felt appreciated and valued. At this moment I knew that this was an opportunity I had to take.
Figuring out the logistics
I accepted the job offer and started the logistics involved in selling my house, moving to a new country, learning a new language and culture. For many this would be highly stressful in normal circumstances but throw in a global pandemic with restrictions on travel, numerous testing requirements and vigorous quarantine regulations, and some would think I was going mad. "Are you crazy Cal?" my best friend Craig said in shock when I told him my plans. I responded by saying that in ten years from now, I want to say I have made a difference, that I chose my life, I did not settle for it.
Inger Lise, ASCO Norway HR Manager, was on hand at every step of the process to assist me in getting all the required documents and permits to work in Norway. As you can imagine the checks at borders are very strict during these times. It took nearly two hours from landing at Sola airport to arriving at my hotel! Ten days quarantine let me recharge after what was an intense two weeks, and it gave me time to continue my Norwegian lessons, as well as starting some online courses via ASCO training portal. It also allowed me to reflect on the past year, how COVID-19 has changed us all and the new chapter in my life ahead.
Why ASCO Norge?
Norway is a country I have always admired. Anyone who works in Oil & Gas knows about Norway and its history, with its emphasis on best practice and continuous improvement, making it a leader in the industry. I have worked in Oil & Gas logistics for over 10 years. Although improvements in technology have been implemented in the UKCS, it frustrates me how old school many processes are in comparison to its north sea neighbour. In a billion-dollar industry, why are we still working with excel spreadsheets and paper manifests? We have intelligent software technology that allows us to be accurate, efficient and cost effective. Why can't this be implemented while delivering safe results?
Norway is much more than a leader in Energy. It is a nation always giving back to its people. Their way of life shows what truly matters, and why year on year Norway is in the top 10 happiest nations in the world. Emphasis on family is important with a work/life balance being integral to one's life. Using time at work to be efficient yet productive, means most of the day is spent with family and friends. A complete contrast to the UK.
Living a healthy and active lifestyle, surrounded by the most majestic landscape means nearly everyone enjoys getting outdoors and being Friluftsliv - to connect with nature by simply being in nature. This sets you free from your intrusive and anxious thoughts. Above all else, the people of Norway are calmer, less stressed and enjoy the small things in life. Being in their hytte (small house), surrounded by family, friends and nature, - add in tacos and fresh coffee and you have my perfect weekend!
Calum

Read more on OBM's recruitment solutions here.