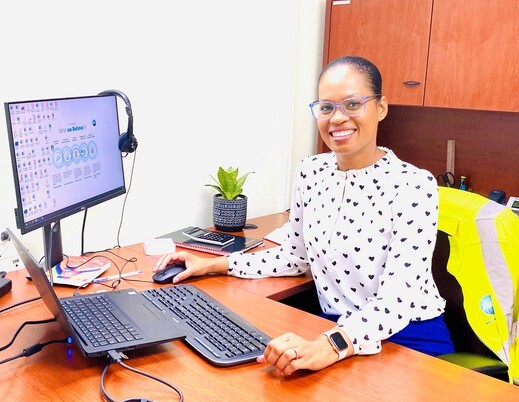 Darleen Modeste joined ASCO in 2011 as an Accounting Assistant at our Chaguaramas base in Trinidad. Over the past nine years, Darleen has worked through a number of positions within ASCO Trinidad and Tobago including: Operations Foreman/Administration, Invoicing and Receivables Supervisor, Invoicing and Operations Support Team lead before progressing into her current position as Commercial Manager in October 2020.
Darleen is committed to professional development and personal growth, holding a BA degree in Business and Finance from Heriot Watt University in Edinburgh as well as a Project Management Certificate from the Trinidad School of Business and Computer Science among other certifications.
What is your current role and what does it entail?
As Commercial Manager, I am responsible for Commercial, Supply Chain, and Business Development activities in Trinidad and Tobago. The goal is to manage the delivery of enhanced customer relationships, profitability, and converting opportunities for new business growth in Trinidad and the region.
What do you enjoy about your role/the company?
Besides having a supportive team who truly cares about my growth and development, it is always a focus to strike that work-life balance. I enjoy the process of negotiating and agreeing on contracts, minimising risks to the business, and ensuring that total value is extracted from contracts.
Tell us a bit about the ASCO working environment?
Our team is enthusiastic and focused on delivering the best service to our clients; we give our best every day, which keeps me going. I perform to my fullest potential in an environment where the team is supportive, positive, and empowering. And most importantly, we find the time to have a good old laugh through it all.
Tell us your thoughts on the ASCO's culture?
I am most proud of our safety culture which is unparalleled in Trinidad and Tobago. From where I sit, the safety culture we have achieved is a result of joint individual and group efforts toward changing values, attitudes, and goals towards HSSEQ. Coupled with proficient health and safety management, ASCO is set to not only create but sustain a culture underpinned by an obsession towards safety.
What have you learned/gained from working at ASCO?
Over the years, I have gained a breadth of experience working at ASCO and am still learning. The knowledge gained in Operations has been by far the most rewarding because I had the opportunity to learn and understand what we do. To date, the most valuable lessons learned, personally and professionally, have been on the job at ASCO, which I will carry with me for the rest of my life.