In 2019 our Tananger base in Norway installed a shore power plant to decrease its environmental footprint, and our base in Hammerfest have now started the same process.
The plant consists of three ea power outlets that are 460 Volts which will provide an alternative source of power to the vessel Siem Symphony and will be operational from 2021.
The extra battery power provided from the shore power plant will mean that the diesel engines onboard use less fuel, produce less emissions and have fewer operating hours using MGO. Furthermore, reduced use of the diesel engines will also result in a lower noise level from the ship.
The overall benefits include a significant reduction in fuel consumption, NOx emissions, SOx emissions and CO2 emissions alongside reduced noise in the local area when vessels are docked. Another benefit to the addition of the plant is that vessels can operate with batteries while they are positioned close to the offshore installations.
ASCO is proud to be able to contribute to the green shift across Norway.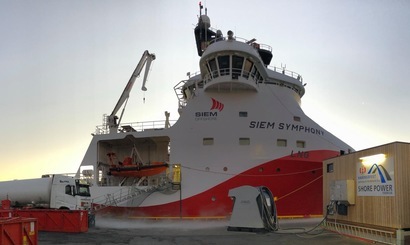 Learn more about our Hammerfest operations here.