Global supply chain company, ASCO has received 21 million NOK (£1.6m) from The Norwegian Coastal Administration as it plans to develop and digitise its base in Leirvika, part of its Hammerfest supply base.
The grant builds on a development project to create efficient and environmentally friendly ports at the Risavika Offshore Terminal in Tananger, Rogaland, which is operated by ASCO which is an operator for a number of offshore bases in Norway and a leading global player.
Work is well underway, and the Hammerfest terminal will be operational during 2020 and be the new logistics starting point in the region. The investment will evolve the terminal digitally transforming it for smart technology, which will also be applied to ASCO's Hammerfest base. Logistics for the region are also to be streamlined through the terminal and operations will receive digital infrastructure with electronic data capture, saving on time and money. Vessels will be better utilised enabling more goods to be transferred from road to sea reducing emissions.
Efficiency improvements include streamlining freight flow for sea-based transport and logistics chains, placing the company in a more competitive position for sea transport for the seafood, aquaculture, fishing, consumer goods and oil and gas industries.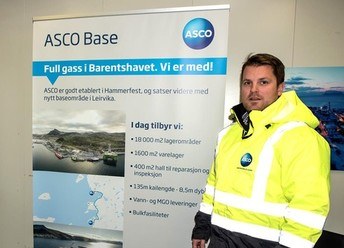 ASCO Hammerfest Base Manager, Tom Eirik Lysmen Jakobsen said: "When the Base in Leirvika is completed and we have implemented solutions around efficiency and digitalisation, it will provide significant benefits to customers and we believe that it opens up the use of the terminal to new industries. It's about getting the right equipment at the right time with 100% control, which will save a lot of time and resources for our customers."
Also commenting, ASCO Norge AS, Chief Digital Innovation Officer, Christopher Hoftun said: "The efficiency gains will offer time savings, estimated at 80% for trucks and 20 % for vessels, which emphasise that this will also provide an environmental benefit. The vessels will have a shorter lay time at the quay resulting in less noise and CO2 emissions."
Read the Norwegian version here.