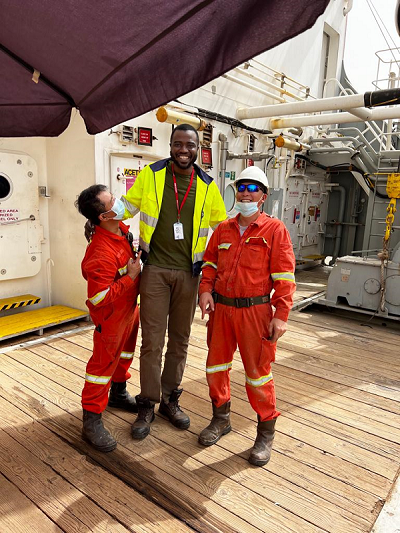 Adasa Edwards joined ASCO in 2013 as an Operations Foreman in La Brea, Trinidad. Working across a number of roles in Trinidad between 2013 and 2021, Adasa then made the move to Dakar, Senegal as an Operations Coordinator in June 2021.
Learn more about Adasa's time at ASCO below.

Joining ASCO
After completing a Post Graduate Diploma in Business Management through the Australian Institute of Business, I wanted to develop my logistical skillset within the oil and gas sector, as I have often found myself drawn to jobs that emphasise adhering to strict timelines and operational demands.
Starting as an Operations Foreman, I supervised all quayside operational activities on the base. Through hard work, determination and improving my supplier and client relations, I moved to the position of Berth 3 Assigned person in 2015, where I was responsible for the implementation of integrated staff and facilities at the base. I then moved to a Cargo Coordinator position for drilling operations ahead of applying for my current role in Senegal.
The journey has always been exciting and full of interesting things to learn and discover; as the futurist Alvin Toffler wrote: "The illiterate of the 21st century will not be those who cannot read and write, but those who cannot learn, unlearn and relearn." I have always been fond of listening and providing feedback while developing a problem-solving aptitude.
My Current Role
As Operations Coordinator, I work closely with our clients in aligning resources to allow deliverables to be achieved under projected timelines via our supply base. I think it's all about communication and having a personable nature.
I saw the Senegal-based Operations Coordinator role advertised and immediately applied for this as I liked the sound of the new challenge and was delighted to be successful after the interview process. The role is similar to the Cargo Coordinator role I held previously in Trinidad, and I am extremely enjoying the new challenge in Senegal where I work on a six-week rotation out of Trinidad.
Support From The Business
ASCO has provided me with the platform to understand the demands and requirements for Supply Base Management, and my ongoing ASCO personal development plans put me on track for further development. I love that my role allows me to travel and see an entire continent while having the flexibility to enjoy the vast culture that Senegal provides. The ability to meet clients and suppliers and have an international network of like-minded individuals brings out the best in me. I am thankful to have had this opportunity.