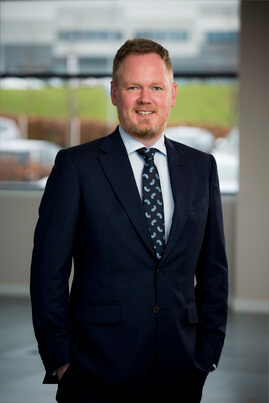 Fraser Stewart joined ASCO as a graduate in 2001 and credits ASCO's Graduate Programme for providing him with solid foundations to build his career which has provided him a diverse range of opportunities in the business.
Read below to learn about Fraser's journey through ASCO, from Graduate to International Managing Director.
Starting as a Grad at ASCO
I was a bit shell shocked at first as I was fresh out of University and this was my first proper job, in an office, with a suit and tie (yes everyone had to wear shirt and tie in those days - even lowly grunts like me). The people were in the main very positive and I quickly formed some great friendships, many of which I retain today.
The graduate programme was different to the graduate programme we run now - it wasn't as well-structured and supported however it taught me to be self-starting and to find things that interested me to get involved in. I also got to know a lot of people throughout the business, and this stood me in good stead in future years. One of the benefits of the programme is its profile with Senior Management - you are visible to the leadership team from the outset. While ASCO is generally a pretty accessible place in terms of being able to speak to anyone freely, it is not always the case that new starts get exposure to senior decision makers so early on.
My Career Journey
After completing the graduate programme, my first real role was in the Business Development team based in Aberdeen, primarily looking at non-oil and gas opportunities. After a group restructure in 2003, I moved into the role of Business Development Manager for Peterhead Base, a job I loved despite the drive to Peterhead in the morning on the Cruden Bay road. I then briefly left ASCO (what a fool!) for about 18 months before coming back in 2006 as Marketing Manager for the Group.
Following the sale of the company in 2007, I got involved in the Strategic Development team, working on a number of projects including a tender in Kazakhstan, where I got my first taste of international travel. I then moved to Canada for five years supporting the establishment of our business there and later in the US and Trinidad.
When I returned to the UK in 2012 it was to setup our consultancy business "Insight" but sadly due to (another) ownership change that business was mothballed and I ended up falling into the role of tender guru, otherwise known as Director of Strategy, Marketing and Tendering for the UK business and then for the wider Group.
When Peter France arrived, I was promoted to the ASCO Management Board and the Commercial Director role, managing both UK and International opportunities - the latter then saw me running Trinidad as Managing Director for a year in 2021 and then moving into the Managing Director International role at the end of that assignment.
Stand Out Moments
Professionally, the establishment of our supply base in Senegal after five long years of work was incredibly rewarding. To see it flourishing and delivering profitable returns under Alisdair Duncan and his team is a source of huge personal satisfaction.
At a personal level, moving to Canada on my 29th birthday was pretty special. I had always wanted to live in a big North American city, and I remember the huge smile on my face when I turned off Deerfoot Trail (Main motorway from the airport in Calgary) to be faced by the skyline in front of me (which is now the skyline of Boston in the hit show The Last of Us! - random fact).
Where I am Now
I manage all ASCO business units outside of the UK and Norway. This does mean I travel a fair bit, something I will never complain about as it is a privilege to get to see so many amazing places and to spend time with the teams in those locations. I also look after progressing and developing all new opportunities internationally - essentially managing the sales and business development process and customer meetings. I still keep the hat of Group Commercial Director too - so I am seldom bored. Oh and I oversee the work of the Marketing and Graphics teams as well…how could I forget them!