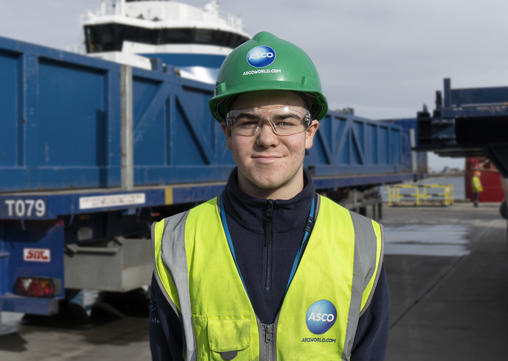 Joel Murray started his career with ASCO in Peterhead as an Apprentice in 2019 on a Level 7 Operations Logistics course. Joel's inherent ability and enthusiastic determination meant he achieved his Level 7 in just five months, and his career has continued to advance ever since.
Read below to learn about Joel's career progression so far and the highlights of his time as an Apprentice.
Starting my career with ASCO
Growing up in Peterhead, I had driven past the base for years, yet when I was physically there for the first time, I didn't know what to expect. I had heard good things about the logistics apprenticeship scheme from a close friend who was just finishing theirs, and following the assessment day at ASCO HQ in Dyce, I knew this was definitely the career for me. It was apparent from day one there was a clear plan for what the warehousing and logistics apprentices would do. For me, it was working on Goods In before moving on to a dedicated client team and from there, my duties and responsibilities extended in line with my improving knowledge.
My apprenticeship journey
Whilst being an apprentice, I was given the responsibility to look after several shared services client teams on my own, which shows the trust I was given by my line manager early on. These tasks improved my experience and knowledge within logistics and warehousing as I was getting exposure to different departments across ASCO such as Inventory, Shipping, Backload plus working with the client representatives on a daily basis. Due to this experience, I was promoted to Senior Material Operative, based at Clipper Quay, Aberdeen. This was an important move for me in my career and personal life as I relocated to Aberdeen for the position, and it has gone very well so far.
The apprenticeship I completed has given me a great foundation for a career at ASCO.I have made great relationships with colleagues and managers, which has gone hand in hand with my development within the organisation. The company knows I am keen to continue to progress up the ladder and working with them to achieve my goals has been successful so far.
A standout moment during my time at ASCO was being a finalist for the prestigious OEUK Apprentice of the Year award in 2021. I was nominated after winning the Virtual Learning Academy Apprentice of the Year award, which was organised by the college providers for my apprenticeship coursework. I unfortunately did not win the OEUK award but being nominated felt like a huge achievement and the award ceremony in December topped off what was a great and important year for me. I won the Audience Award on the night, so it was a great way to leave the event with something to look back on fondly.
My academic endeavours
Academically, I began my Graduate Apprenticeship in Business Management in September 2022 and I have been enjoying the process so far. It involves a lot of work and has caused a huge change to my work and personal schedule however I know it will be worth it in the end. Mark Selby, Group Warehouse & Materials Manager, is my mentor for this degree and his support to help me relate the theory to the organisation has helped a lot. I'm also given some time through the week to join online lectures and have meetings with departmental managers when I am studying a specific area of the business.
The next steps in my career
I am really pleased with how well my career has progressed through ASCO since I started as an apprentice. My role is now Senior Material Operative at the Transit Shed, Albert Quay, where I support both the Team Leader and Material Operatives with day-to-day tasks and provide oversight on warehouse operations for the Neptune Energy and bp contracts. I am trained in all the warehouse functions we provide, and this allows me to cover, train and support the Material Operatives if they are struggling or need assistance. I cover the Team Leader role during absences which has given me supervisory experience which will be beneficial for my future career. This role has been great for me and I'm glad I made the decision to relocate to Aberdeen as I have gained experience in other areas. This role helped increase my knowledge within the industry both as a Warehouse Operative and a Supervisor, which will help me with future career progression.