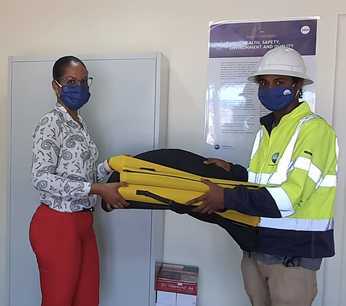 In an effort to increase the overall quality of LSI's submitted over time, the Trinidad HSSEQ Department launched an LSI Intervention Initiative for 2021.
The aim of the initiative is to focus on increasing the effectiveness in LSI's in contributing to incident prevention and the overall Health and Safety of our people.
When submitting an LSI, the below criteria was determined:
Could the LSI scenario very likely have stopped an incident?
Lots of uncontrolled risk involved (medium to high) and the LSI action really mitigated it?
Non-conformance against a lifesaving rule?
Was there Safety Excellence in showing continuous improvement and/or strengthened a known ASCO Trinidad weakness related to compliance with AIMS?
Did the employee show guts and strength to act based on the situation?
Did the LSI greatly improve the reputation of ASCO with the client?
Was the LSI a simple but excellent example of "being your brother's keeper"
The team also made the decision to include an incentive in the initiative, where the submission that fits with the most criteria above, wins a beach day kit inclusive of a beach chair, collapsible table with carrying bag and a tumbler. Perfect for even a relaxing weekend in your backyard during these times of social distancing and minimal social interaction. In light of the present risks brought by the Covid-19 virus, employees at the Trinidad location are being more observant and responsible in the way they handle the receipt of backloads and the dispatching of materials.
Adom Huggins, Warehouse Attendant made a suggestion via an LSI to acquire a Sanitizing Mister. This is used to spray the inside of Production Boxes when received on site to lower chances of the spread of coronavirus while also giving reassurance to responsible personnel.
Congratulations to Adom and the Trinidad team for their continuous effort to ensure our team members remain safe and healthy!

Find out more about our Trinidad business here.
Photo caption: Darleen Modeste, Commercial Manager presenting Adom Huggins, Warehouse Attendant with his prize