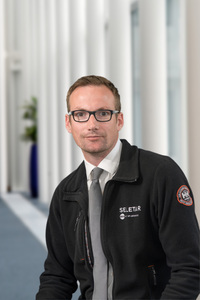 Global integrated logistics and materials management specialist, ASCO, has appointed Ross Irvine as general manager of its ship agency (Seletar) and freight management (AFM) service lines.
Ross steps into his new role today (November 14) following the promotion of his predecessor Mike Pettigrew, who was recently appointed managing director for ASCO UK.
As one of the leading ships agents for the UK energy industry, Seletar provides crew coordination, freight management, procurement services, onshore logistics, and an extensive range of complementary services such as fuel provision, industrial tank cleaning, waste management, and ship spares logistics. Seletar's services are facilitated by its eight strategic UK locations, serving more than 20 neighbouring ports. Additionally, ASCO's freight management business offers customs compliance, heli-freight and freight forwarding services.
Since joining ASCO in 2012 as a Ships Agent, Ross has held a number of roles within the company, including various management positions. Most recently as service delivery manager at Seletar.
Beyond his role at ASCO, Ross currently serves as a tutor at the Institute of Chartered Shipbrokers, the professional body for all members of the commercial shipping industry worldwide. Having completed the Institute's Foundation and Advanced diplomas with distinctions in Offshore Support and Shipping Business and their Professional Qualifying Examinations, Ross has developed an in-depth knowledge and understanding of the commercial shipping industry.
Ross Irvine said: "I am honoured to be taking on the role of general manager for Seletar and AFM in what is an incredibly exciting time for both facets of the business. I am looking forward to overseeing the sustained growth of both these key service offerings."
Mike Pettigrew, Managing Director - UK, said: "Ross is a true example of the internal development opportunities that ASCO has to offer. I have had the pleasure of working with him since joining the company and have every confidence that he will continue to excel in this new position."
Find out more about our Seletar capabilities and our Freight Management capabilities.