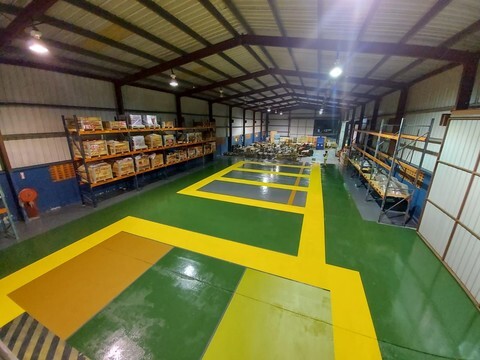 The ASCO Trinidad team recently restructured one of their warehouses to improve overall efficiency by building on the Lean principles used at other ASCO operational sites globally.
The main objective of the project focused on improving the layout to support an efficient flow of materials around the warehouse, as the previous layout made moving materials challenging. Alongside this, the team wanted to ensure delays were decreased in the picking and packaging of materials for loadouts by reducing the time spent trying to select items, creating a safer and leaner environment, ensuring efficient operations.
The team upgraded the warehouse addressing the 7 wastes of lean:
1. Transportation
2. Inventory
3. Motion
4. Waiting
5. Overproduction
6. Over-processing
7. Defects
A floorplan was created to identify the key areas to determine the most efficient traffic flow before these areas were painted, including: floor bin sections, pedestrian walkway, forklift pathway, receiving bay, packaging area, quarantine area and most importantly the developer and valiant shipping sections.
Working with Lean principles allowed the team to improve the way operations are carried out, always leading with safety excellence, service excellence and sustainability at the forefront.
Well done to everyone involved!