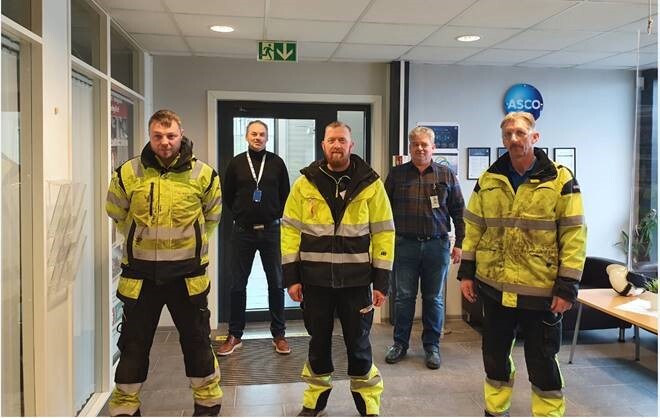 SWIRE has outsourced its service production to ASCO where the contract will start from 7 April 2021.
While strengthening ASCO's service portfolio and consolidating SWIRE's business in Sandnessjøen, the collaboration will provide our customers a comprehensive range of services at our Sandnessjøen base through a single point of contact. This change also certifies ASCO as an expert company within lifting equipment.
ASCO previously provided the supply, transport and forwarding operations management while SWIRE supplied cargo carrier units (CCUs), chemical handling as well as testing and inspection. All of which is now provided at ASCO's service warehouse in Sandnessjøen.
ASCO Sandessjøen Base Manager, Ståle Edvardsen said: "The markets are constantly changing. The service providers within the oil and gas sector must adapt to new economic, technological and competitive framework conditions."
The services will be performed largely by the same personnel as before, but the collaboration will open up new opportunities in both existing and new markets."
Learn more about our operations in Norway here.
Norwegian:
ASCO Norge AS og SWIRE Energy Services inngår strategisk samarbeid i Sandnessjøen. SWIRE outsourcer sin tjenesteproduksjon til ASCO som ansetter staben på fire personer i Sandnessjøen, gjeldende fra 7.april.
"Markedene i er i stadig endring. Tjenesteleverandørene innenfor olje og gass må tilpasse seg nye økonomiske, teknologiske og konkurransemessige rammevilkår" sier basesjef Ståle Edvardsen i ASCO.
Samarbeidet vil styrke både oss som leverandører, og kundene vil få et ytterligere komplett tjenestetilbud med denne konstellasjonen. ASCO driver forsyningsvirksomhet, transport og spedisjon, mens SWIRE driver utleie av lastbærere (CCUs), håndterer kjemikalier for ulike kunder og har sin egen test- og inspeksjonsavdeling. Dette samles nå hos et tjenestevarehus hos ASCO, som dermed øker staben til 32 ansatte i Sandnessjøen.
For ASCO vil dette bidra til å øke tjenesteporteføljen og for SWIRE vil dette bidra til å få en mer robust virksomhet i Sandnessjøen når deres fire ansatte blir en del av en større virksomhet. ASCO og SWIRE vil innenfor tjenestesegmentene transport, stevedoretjenester, test og inspeksjon gjennom dette samarbeidet også søke markeder utenfor olje og gassnæringen.
"Kundene vil i liten grad merke store endringer, tjenestene skal utføres stort av samme personell som tidligere, men samarbeidet vil åpne nye muligheter både innenfor eksisterende og nye markeder", avslutter Edvardsen.
Photo caption: ASCO Base Sandnessjøen employees those 4 SWIRE - employed in Sandnessjøen. From the left: Arne-Andre Karlsen, Ståle Edvardsen (Basesjef ASCO), Per Magne Stormo, Terje Tønder and Ronny Andre Olsen.