by Peter France, Group CEO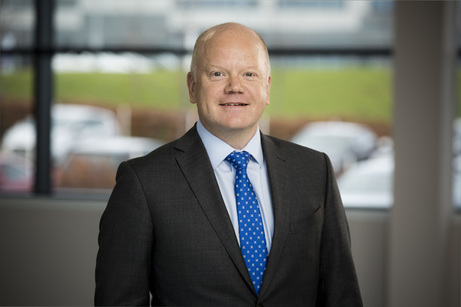 Following the outcomes of COP26 in Glasgow, the North Sea industry prepared for the challenges of transformational change to embrace the energy transition as it welcomed the new year.
Fast forward just eight weeks, and the world's attention was focused on Russia's invasion of Ukraine, which led to sanctions, supply chain disruptions and an unprecedented increase in energy prices. The impact of the energy cost structure was especially evident in Europe, where energy costs are expected to remain high in the long term.
The energy crisis, and its subsequent effect, not just for the industry but for consumers, became very real, very quickly. The risk to energy security has resulted in a public reassessment of oil and gas supply and its role in the energy mix.
Following these changes, some may argue that there could be a slowdown in energy transition progress. However, I do not think that is the case. What we are witnessing is a growing realisation that a just and reasonable transition is very much a journey and is not a simple case of stopping new oil and gas production.
The industry has advocated for a balance between supporting ongoing oil and gas activity and growing new energy demand. The challenge supply chain companies like ASCO now face is continuing to deliver for current projects to maintain uninterrupted operations while also providing the necessary resources for new energy developments. Additionally, we must be able to invest in new technologies and the skilled workforce required to help our, and the industry's, drive towards decarbonisation.
Buying into a just energy transition is a cultural understanding that doesn't just start and end with consumers at home. How employees perceive their employers is also vitally important in today's complex jobs market, especially when skills are in high demand.
I have seen first-hand at ASCO how embedding a philosophy that empowers employees and makes them feel listened to, engaged and involved leads to increased productivity and drives environmental and social governance. We have established committees, forums and focus groups to engage our workforce at all levels across the globe, empowering them to influence everything from our business strategy, approach to equality, diversity and inclusion, and sustainability initiatives. An emphasis on building an inclusive and positive internal culture enables organisations to retain and upskill their people to improve systems and processes that will, in turn, shape the energy transition.
Nevertheless, the supply chain needs more support from inside the industry and a clear look ahead of the long-term opportunities. The perception that every company working in oil and gas enjoys inflated margins is a myth that needs to be dispelled. It's a pleasure to work with many clients who appreciate and understand the supply chain's vital role in tackling the energy trilemma; this gives us the confidence to invest in the future – be it in new technologies or our people.
Companies need to work collaboratively with suppliers, recognising that to invest in the necessary resources to meet future challenges, the supply chain needs not only visibility but the necessary margins that enable us to build sustainable businesses to support the energy transition. Failure to invest in the supply chain now will cause a ripple effect of skills and resource shortages that will impact the entire industry.
The wheels are already in motion for 2023 to be another rollercoaster year for the North Sea, with significant variables to contend with, including the continued impact of the war in Ukraine, commodity price volatility and the potential effects of the energy profits levy. But on the other side, there are many exciting opportunities across the UKCS and all our locations and markets.
It will be a balancing act, but if the North Sea is correctly and strategically positioned, and the companies operating in it foster the right organisational culture, there will be a bright future for everyone in the energy industry.
Find out more about our Net Zero by 2040 goals here.