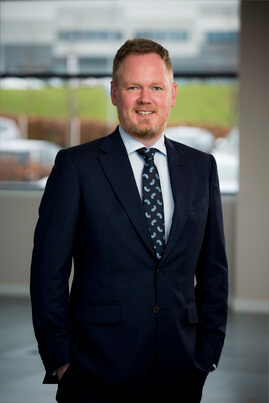 ASCO began life as the Aberdeen Services Company, a logistics and materials management company founded over 50 years ago in 1967. ASCO's customers have historically been predominantly major oil and gas operators, although the company now has a growing presence in the renewables and new energy markets.
"I am very proud to see how much the business has grown and the resilience it has had against the recurrent oil and gas cycles. We have worked hard developing our service lines and diversifying into new energy projects such as hydrogen and carbon capture but also in markets such as fishing and retail," says Fraser Stewart, Managing Director of ASCO's international operations. "We used to be known for our traditional logistics and materials management services but now we have built a solid reputation in delivering a full suite of services including lifting support and assurance, recruitment, ship agency, marine and environmental services."
From its origins in Scotland, the business has grown and evolved, becoming a leading supply base operator with a truly international presence.
"We're seeing a lot of growth in new international markets," Stewart says. "We established a presence in Senegal just over a year ago after several years of work to develop this opportunity. We have expanded our Canadian operation into New Brunswick and have just established our presence in Suriname to support Kuldipsingh Port and Total Energies offshore logistics activities. It has been a very exciting time, despite Covid 19 challenges, and there are plenty more growth opportunities to pursue."
Selective Growth
Although there is an abundance of opportunity, ASCO's approach to growth is not indiscriminate.
"Compliance and governance are one of the major challenges we face as we grow internationally. We could go into any number of territories globally but that would create a risk to the business with conflicts around compliance potential," Stewart explains. "There are also potential challenges from political intervention. So, we are very selective in terms of which countries we pursue. We changed strategy a few years ago to have a more selective, strategic and diligent approach rather than allowing ourselves to be distracted by anything and everything."
It is a strategy underpinned and supported by ASCO's strong governance structure, led by General Counsel, Fraser McIntyre, who Stewart works closely alongside to rule out 'opportunities' very quickly if they present too great a risk.
"We work with a lot of local partners and global strategic partners and they have proven invaluable to our progress," Stewart tells us. "We also leverage relationships with several major energy businesses, building those relationships on a global basis."
A People-Focused Business
It reflects the strong people-focused approach that is a recurring theme throughout our discussion with Stewart.
"ASCO is very much about people. We are an expertise and competence-based business," he tells us. "We own limited physical infrastructure but bring our processes and expertise to new operations. That expertise provides assurance to our customer base that standards set everywhere else in the world will be adhered to in new countries, in particular in the safety and reliability of the service."
One phrase that will come up a lot when discussing compliance on an international scale is "local content, and while this is a value Stewart believes in, he also insists it is not the whole story.
"There is always a requirement around local content, but this often benefits only a limited number of people." Stewart says. "You might partner with one company, but the benefit will not go to the country as a whole. So, we are focusing more heavily on developing local capability."
Local Capability
Local capability development means that for most positions initially filled by an ex-pat, ASCO will create another position directly beneath them filled by a local recruit. Over two-to-five years the person established in that local position will be developed and trained to replace that ex-pat position.
"What that does is give that individual extra skills, extra career progression and extra earnings that they take back into their community," Stewart says. "That money goes into their children's education, healthcare and more. That for us is a big part of what we are doing. Making sure that in a short period, we are in a position where our operations are 100% locally delivered or as close to that as possible."
It is a philosophy you can see in action in Trinidad and Tobago, where ASCO has recently appointed a new locally recruited Managing Director.
Deborah Benjamin will manage ASCO's operations across the Caribbean drawing on over fifteen years of experience in the energy, retail and supply chain sectors. All the managers and senior leaders within ASCO are recruited locally.
"I'm very pleased to welcome Deborah who recently joined the company as our Managing Director for Trinidad and Tobago to manage the local operations. We believe in equality and representation across the company, that's part of our values and is reflected across all our locations. I am very proud that we have such a balanced team in Trinidad and Tobago with female managers outnumbering their male counterparts."
"We have grown in Trinidad and Tobago, and we are unlocking a raft of opportunities for us to create a sustainable and long-term business in all the locations we operate," Stewart says. "Regionally we're growing because of the Suriname work we're starting, which spun off from the work we're doing in Trinidad supporting a large operator. We're going to put the same model in place with a local partner while ASCO provides our expertise and capabilities."
Four Territories of Potential
Looking forward, Stewart believes there is a lot to be excited about in ASCO's future across its four main growth territories, Canada, Trinidad, Australia and Senegal.
"We want to grow out from those centres into adjacent and parallel markets in that country or neighbouring countries," Stewart says.
In Canada, Stewart points to lots of opportunities in the materials management sector, while ASCO's approach in Trinidad and Tobago is to acquire maximum market share in its traditional supply base operations while growing in new sectors. Meanwhile, Senegal has the potential to become a regional energy hub to meet the rapidly growing energy demand being fulfilled in West Africa, particularly in Mauritania, Cote D'Ivoire and Namibia, while in Australia ASCO is present in Darwin and has recently relocated its Perth operations to a new 4,400m² warehouse in Welshpool to expand its service offering in the area.
"We're assessing new geographies, but we have finite resources and people, so we make sure we're growing strongly and sustainably without taking on more than we can reliably deliver" Stewart tells us.
Source: Published by Business Focus (CEO Media Group)
Read more about our recent operations in Senegal, Suriname and New Brunswick.