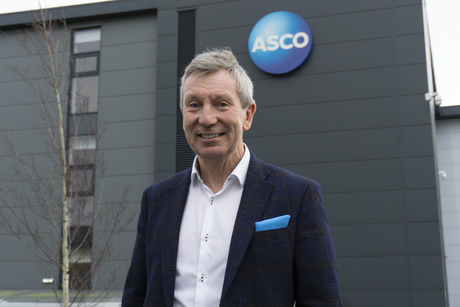 Decom North Sea caught up with Chris Lloyd, Head of Environmental and Decommissioning at ASCO Group, to get an update on the company's approach to decommissioning.
DNS: Tell us about ASCO's involvement in decommissioning and how that fits in to the wider Group's activity.
CL: We're such a multi-faceted company, with a focus upon marine and shore-based materials management and logistics. Decommissioning was an obvious sector for us to get involved in right at the beginning; it's still about the movement and expert handling of materials – just different materials!
Via our Peterhead and Aberdeen quayside bases, we were – until relatively recently – focused on piece small activities. However, that has changed in the last couple of years as those hubs, and our Great Yarmouth base, become much more flexible, responding to the varied needs of particular assets and always attuned to the cost and environmental implications of what we do.
With the majority of asset equipment metal-based, one of our key decommissioning services is NORM (Naturally Occurring Radioactive Material) decontamination, before working with our partners (usually as local to the relevant port as possible), to reuse or recycle.
Bulk fluids and dry waste are also other decommissioning waste streams we handle.
DNS: Whilst we're all keen to change it, the fact remains that decommissioning timelines can be uncertain. How does ASCO forecast and budget accurately in these circumstances?
CL: This is very much a feature of decommissioning supply chain work, but there is no doubt that we are seeing an increase in volume of decom work – the tidal wave is really starting to gather strength. Right now, we're bidding on more work for Q1/2 2022 than we've seen before. Ironically, however, the concern may be that the supply chain simply isn't big enough to cope with the upcoming volume of work, particularly with so many companies having been hammered by the relentless banging of the cost drum. The positive is that bidding may well be made up to a year in advance of any dismantling activity, making schedules more manageable for service companies.
DNS: So now that you've set the scene, are there any particular challenges for ASCO as the decommissioning sector becomes increasingly active?
CL: The challenges are mostly commercial, in particular around the feasibility of lump sum models. Ultimately, these are less sustainable in a sector where so many unknowns abound. The number of caveats required can lead to endless negotiation. The vast majority of the supply chain is doing a great job and the operator community understands and acknowledges that, but somehow there is a disconnect at tender phase which would benefit from further discussion.
Once the benefits of a non-lump sum model are discussed, conversations are hugely positive and projects gain better results – often ahead of time and ahead of budget.
The real results are achieved when discussions take place at contract/negotiation stage – not least because this allows for meaningful project management to kick in as soon as possible, with clear communication making a world of difference to the outcome.
DNS: So how does being a member of Decom North Sea help address those challenges?
CL: DNS is a great platform for promotion and discussion at member events. Listening and engaging with others will always lead to better sector results and this month's Decom Live is a prime example of the type of event that makes a difference.
In my experience, DNS members are much more open to sharing information, and have found the operators' "lessons learned" particularly fascinating. It is incumbent upon us as an industry to raise the environmental debate and these "lessons learned" sessions are a valuable part of that process.
The recent virtual trade mission to Brunei was a revelation, and one which I hope will be repeated in other regions.
DNS: We believe that decommissioning is intrinsically linked to as environmentally sound an Energy Transition as possible – and will impact upon the decommissioning of renewable and hybrid assets for many decades to come. To what extent does ASCO's current decom activity synergise with this outlook?
CL: Local decommissioning and waste management are critical to the environmental profile of any project; it has a significant impact upon the carbon footprint and I believe that through smart collaboration with local supply chain, we'll eventually be able to ensure that every single element that arrives onshore finds its home without travelling 100s of miles. In this way, we're also aiming to accelerate the development of SMEs local to our bases. In other words, we're talking about a double hit - the sustainability of the environment and the UK supply chain.
DNS: How optimistic is ASCO about the future of decommissioning?
CL: We're exceptionally positive about the decommissioning sector – not only in the UKCS, and shortly the Norwegian North Sea (where our experience and stringent standards will stand the UK supply chain in good stead) but much further afield. The export of UK decommissioning knowledge to Australia, the US and South East Asia and beyond is a massive opportunity for us all and one we must embrace when the time is right. In the meantime, we continue to hone our skills and introduce innovative ways of working in the North Sea.
(Source: Decom News, issue 44, September 2021 publication)