Congratulations to our D2 warehouse team who have been recognised with two awards from our client, BP, acknowledging seven years of collaboration and our shared value for safety.
The first award was presented for our dedication to BP's safety leadership principles, in particular "we will not compromise our focus on safety". The achievement demonstrates a close and collaborative approach towards health and safety, involving every team member to deliver a safe working environment, ensuring everyone returns home to their family and loved ones without harm. The award recognises the continual safety improvements that have been made over the past seven years, exemplified by the focus on pallet racking safety which has resulted in zero incidents, damage or fatigue within the structure.
The second award was given in recognition of the team's approach to hazard hunting, specifically in the preparation and aftermath of the unprecedented weather experienced across the UK and the North-East of Scotland during November 2021 through to February 2022. Every member of the warehouse team participated and contributed to the hazard hunt, from monitoring weather reports and forecasts, to moving material inside the warehouse to ensure safety and security. The team developed and deployed visual management tools to allow for quick and effective identification of potential hazards and the mitigation of these risks.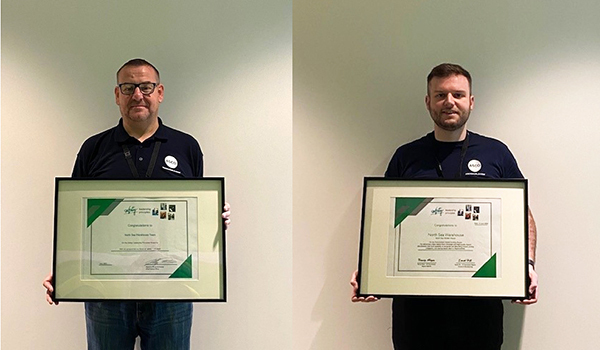 Photographed are Stuart Reid, Warehouse Manager, holding the Safety Leadership Principles Award and Callum Forbes, Assistant Warehouse Manager, with the Hazard Hunt Award.

Well done to the entire team for their continued hard work and dedication to both Safety and Service Excellence.
Learn more about our warehousing capabilities here.