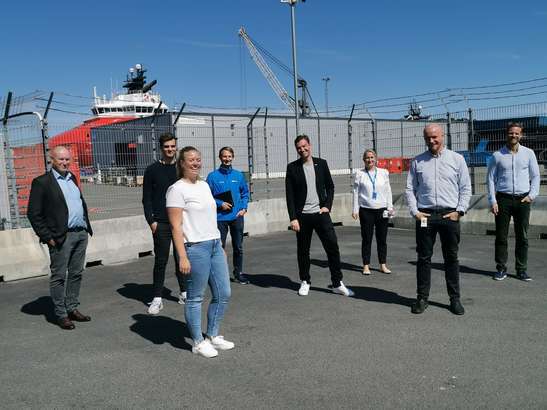 The team in Tananger, Norway were honoured to welcome a number of delegates from the Norwegian parliament early August, including Henrik Asheim - Minister of Research and Higher Education, Aleksander Stokkebø - Member of the Finance Committee and Tuve Gaarder Nordlie - Senior Advisor Communications for the Ministry of Education. The delegates were interested to hear about the outcome of the newly established Education Promise 2020 programme, implemented at ASCO Norway.
After the pandemic hit, the Norwegian government realised a major shift was taking place in the Oil and Gas industry, and that it was necessary to invest more in further education by upscaling digitalisation skills and knowledge.
Tuve Gaarder Nordlie, Senior Advisor Communications for the Ministry of Education to the Norwegian Press commented on the Education Promise: "Digitalisation is now coming full circle to old industry, and a major shift is taking place. To be competitive in terms of sustainability and profitability, it requires digitalisation. This in turn requires skills development and employees must have knowledge of the new digital tools."
Tommy Steinbru, Base Manager at ASCO Tananger also added: "This is a changing industry and there is a great need for skills development. Industrial workers and the unskilled must gain digital skills to keep up."
The Education Promise 2020 is a program composed of short courses that are created in collaboration between the business community and local vocational schools. As part of the industry program, the Logistics for Offshore course was created for the oil, gas and service companies and was provided by Rogaland Vocational School in spring 2021. ASCO participated in both the development and implementation of the course and hosted eight students on the course.
Henrik Asheim, the Minister of Research and Higher Education was introduced to Fredrik Holst and Ida-Charlotte Lundbakk, two ASCO employees who were part of the spring 2021 program and was very interested to hear about their experience.
Both Fredrik and Ida started as apprentices and received their certificate with ASCO.
Fredrik has risen in ranks and built up valuable skills required to sit in one of the most challenging roles as a Drilling Logistics Coordinator, whist Ida gained in depth knowledge as Logistics Coordinator and is now a Consultant to customers and works both offshore and onshore.
These are two good practical examples of how knowledge and skills development provide value through industry programs.
During the visit, the delegates were given a brief introduction of ASCO and its service offering, showing the commitment we have towards our employees, in helping them become highly valued within their skillset. Ida and Fredrik gave insight on their experiences within ASCO before a presentation of the supply base Digitalisation program with a tour of the Goods receipts area to show how the digitalisation program works.
The digitalisation of the quayside in Tananger has made impressive improvements to the base by reducing turnaround time by 80% for trucks and 20% for ships as well as reducing emissions. The ships are at the quay for 30 minutes less than they were before, reducing CO2 emissions by 127 tonnes a year, which is equivalent to what 500 cars emit a year.
Learn more about our services in Tananger here.