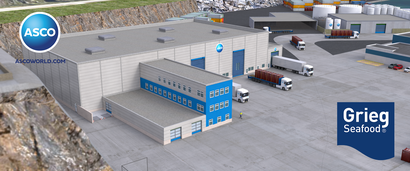 Global integrated materials and logistics management company, ASCO has partnered with aquaculture company, Grieg Seafood to provide full logistics services.
Grieg Seafood is a key player in aquaculture in the Barents Sea and the contract will contribute to the establishment of more jobs in Leirvika. ASCO will provide materials management services as well as office space and indoor and outdoor storage for Grieg Seafood from its Hammerfest base in Norway.
Rolf Harry Sætrum who is responsible for Purchasing at Grieg Seafood commented: "We are pleased to have found a partner who can provide strong logistics solutions, enabling us to focus on the sustainable production of salmon."
Hammerfest Base Manager, Tom Eirik Lysmen Jakobsen commented: "The contract award is very gratifying. This is completely in line with our strategy to be a sustainable logistics base through market diversification.
"We look forward to developing tomorrow's logistics solutions for the aquaculture industry together with Grieg Seafood. There are a lot of exciting opportunities within the industry and we look forward to contributing using our expertise to ensure all logistics operations are more efficient and sustainable for the customer."
Across Norway, ASCO is currently working on a number of sustainability and decarbonisation initiatives, including shore power solutions, which reduce emissions and noise from vessels in ports. Another initiative is the development of a digitalisation tool which will optimise logistics flow and resource use, contributing to a significant reduction in greenhouse gas emissions.