For the eighth year running, ASCO, working on behalf of Norfolk County Council, has successfully delivered a number of household hazardous waste days to the general public through seven local authority recycling centres. The project provides members of the general public with an opportunity to bring hazardous household waste, such as wood preservatives, insecticides, weed killers, paint, thinners, varnishes and special cleaning products to their local recycling centre on designated weekends. The waste is then disposed of in a socially and environmentally responsible manner. Across seven weekends 334 tonnes of hazardous waste were collected and subsequently sorted and recycled or disposed of, in line with ASCO's "zero waste to landfill" waste commitment.
The project continues to be hugely popular with the general public, even despite some awful weather conditions on some of the days. Extensive detailed planning and preparatory risk assessment were undertaken to allow the project to operate safely within the current challenging pandemic restrictions. Cooperation between ASCO, the recycling centre operating staff, the County Council's team and the general public ensured everyone was able to dispose of their waste in a safe and controlled manner.
Janice Coglin-Hibbert, Norfolk County Council Waste Reduction Officer, said: " Thanks to everyone for their help in the preparation and running of the hazardous waste days which went very well, despite the additional challenges brought by the need to follow strict Covid-19 safety measures this year.
The busy events saw some long queues but everyone was generally patient and understanding and the sites were still able to keep moving fluidly, allowing ASCO to sort through the hundreds of items brought in… so, a huge well done and thank you."
ASCO are proud to support Norfolk County Council in this highly effective initiative.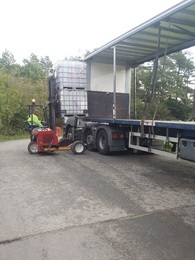 Learn more about our Great Yarmouth operations, click here.