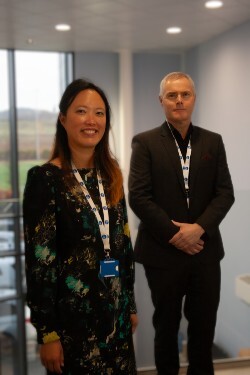 Global integrated logistics and materials management company, ASCO, has appointed Peter Guild, as new Group Head of HSSEQ and promoted Thuy-Tien Le Guen Dang to support the company sustainability strategy.
Peter brings a wealth of experience spanning over 30 years working across Construction, and Oil and Gas sectors having previously held positions at Subsea 7 and Sparrows Offshore Services.
In his new role, Peter will be responsible for the strategic delivery of Group HSSEQ activities whilst supporting the Company's fundamental obsessions of safety and service excellence and sustainability.
As a key player in the Energy Industry, ASCO has held a strong commitment to sustainability and has set the objective to become a net zero green-house gas emissions business by 2040. ASCO plays an active part in transforming the supply chain in collaboration with its clients, partners and industry bodies and are working to support the transition towards a low carbon future by lowering its carbon footprint of its operations and by diversifying into new energy.
To drive this business transition and the company-wide culture shift, Thuy-Tien Le Guen Dang has been promoted to Group Sustainability and Marketing Manager and become the focal point for the business both internally and externally. Thuy-Tien has 16 years' experience in a range of sectors including Agriculture, Mining and Water Treatment, undertaking various commercial roles.
As part of the company's plans, ASCO has made a number of changes already to its operations including the transition to electric forklifts and the implementation of an Operations Control Centre to drive safe, lean and sustainable operations.
Commenting on his appointment, Peter said: "I am delighted to join the ASCO team at such an exciting time. ASCO has a strong legacy in the UK and a large global footprint, and with our increased focus around sustainability and strategic goals, I look forward to my journey with the company and playing my part in supporting ASCO to evolve and diversify through the implementation of our strategy."
Thuy-Tien Le Guen Dang, said: "The energy transition is high on ASCO's agenda. We have a responsibility to manage our business for the long-term benefit of our colleagues, communities, partners, stakeholders in the industry, and the planet. We will drive improvements in all areas in our direct control, while partnering with like-minded companies to reduce our environmental footprint. These improvements will support us in achieving our target of net zero carbon emissions by 2040 and build a strong and sustainable business for next generations."
Learn more about ASCO's commitment to sustainability here.