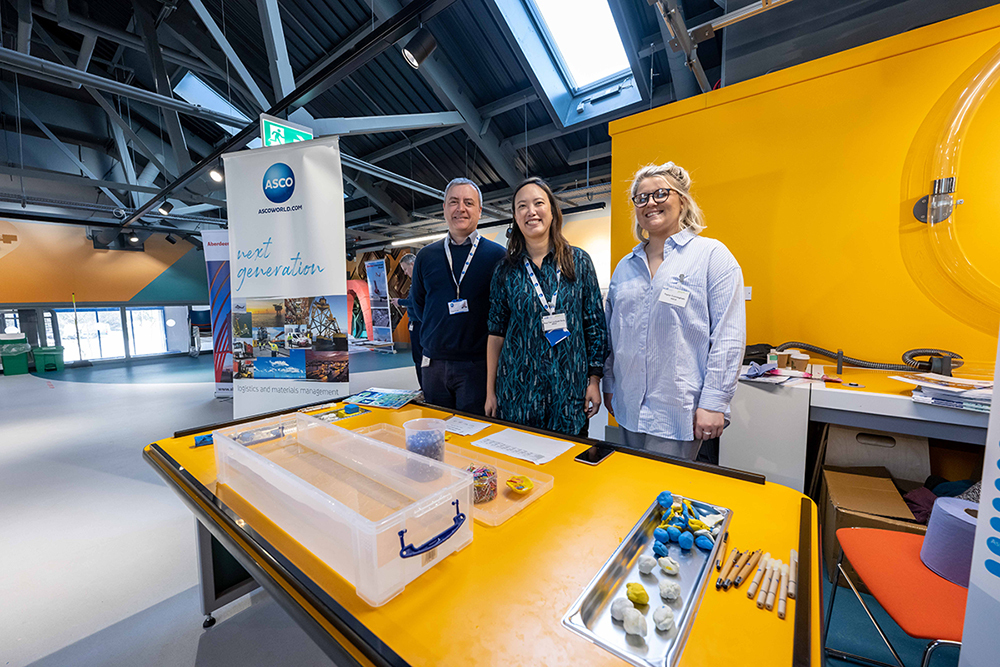 ASCO recently supported SCDI's Young Engineers and Science Clubs (YESC) regional celebration of STEM (Science, Technology, Engineering and Maths) event at Aberdeen Science Centre.

The event, held in partnership with BP and SHELL U.K. Limited, allowed pupils from local primary and secondary schools to participate in competitions where companies provided a five-minute, hands-on challenge focusing on teamwork and problem-solving. These challenges offered a platform to give young people an insight into the opportunities and career paths available within the STEM industry.

A range of Aberdeen-based companies took part to support with challenges and activities, including AGS Airports, Bristow Helicopters, KAEFER, Offshore Renewable Energy Catapult, Repsol, SSE, Sweco, Vysus Group and Wood.
From ASCO, Thuy-Tien Le Guen Dang, Group Sustainability & Marketing Manager, Tony Brady, UK Senior Business Development Manager and one of our Graduate's, Taylor Cunningham, provided a hands-on challenge which saw the pupils building a boat and testing how many marbles or paper clips it could hold without sinking; this allowed the groups to learn about density, buoyancy, teamwork and problem-solving.

Commenting on the event, Thuy-Tien said: "We had so much fun supporting the STEM event organised by SCDI's Young Engineers and Science Clubs (YESC) at the Aberdeen Science Centre. Seeing the children's interest in the industry sparking while demonstrating creativity, communication, and teamwork skills during their challenges was amazing!"

Fifteen teams from eleven local Aberdeen and Aberdeenshire schools participated in the event. Congratulations to Danestone Primary School for winning the primary school STEM Challenge and Old Machar Academy for the secondary school STEM Challenge.

The schools also participated in Climate Smarter and Carbon Capture and Storage (CCS) projects. They also presented a wide range of STEM projects for the opportunity to win the 'Regional Club of the Year' title.

We look forward to attending and supporting many more events like this in the future.
To see the complete list of winners and learn more about this event, you can read the SCDI's full article here.