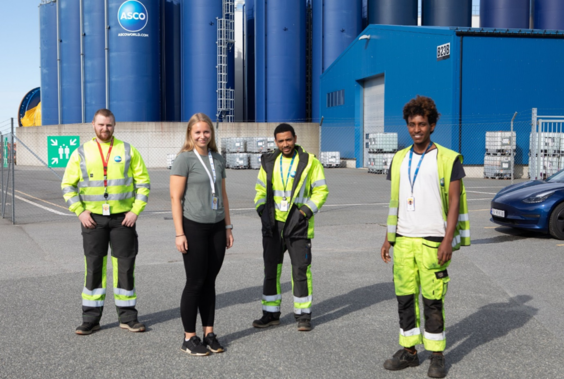 At ASCO, nurturing the next generation is hugely important to us, and one of the ways we are able to do this is through apprenticeships.
Apprenticeships have been offered across the business for decades, with the majority of them succeeding in permanent positions.
With over 15 years' experience providing apprenticeship, Norway has currently 19 apprentices across its bases, including four of which in Risavika in Transport and Logistics.
Inger Lise Molenaar, HR Manager and co-ordinator of the apprenticeships programme commented: "It is very important for us to bring in apprentices. They add a fresh pair of eyes. We shape them, but they also shape us."
Tommy Steinbru, Base Manager added: "It is important for us to find the right candidates, and when we bring in apprentices for an interview, it is the personality that we focus on the most."
After the completion of the two-year apprenticeship, and the certificate has been received, an assessment is carried out. Most of the apprentices who successfully passed it have gone on to gain permanent jobs within the company.
Mehari Haile Feshaye and Henok Tadese Tsegay are two apprentices currently based in Tananger, Mehari in the packing plant and Henok in warehousing. Mehari has been with ASCO for one month, while Henok is in his second and final year as an apprentice.
Throughout the apprenticeship, they will spend time in most of the departments to broaden their skillset, whilst helping them find out what they enjoy the most.
They both agreed: "The working environment is great, and that is probably the most important thing. Equally, the tasks are varied, and we learn a lot."
Tommy Steinbru, Base Manager also added: "We challenge our apprentices by giving them important responsibilities from the beginning whilst ensuring they always have the required support and guidance from colleagues managers."
If you would like to learn more about the Apprenticeship programmes available within ASCO, get in touch today!

Photo caption left to right: Gudgeir Magnusson, Logistics Coordinator, Karoline Hamre, Senior Logistics Coordinator and apprentices; Henok Tadese Tsegay and Mehari Haile Feshaye