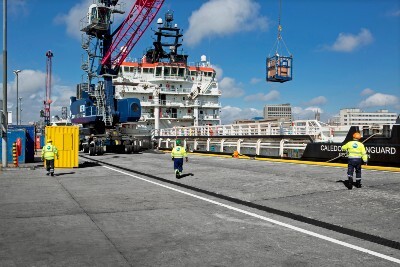 Global integrated logistics and materials management company, ASCO, has announced multiple significant contract wins with major North Sea operators for various scopes of work including the provision of quayside logistics, materials management, ship agency, receipt and dispatch services, supply and management of marine gas oil, marine, environmental and aviation services. Several of the contracts were secured in the last four months and have a combined value of approx. £200m over the next three years, marking a successful Q4 for 2021 and an excellent start to 2022.
UK Head of Commercial and Business Management, Jamie Marr, commented: "2021 presented many challenges for the business community, but we signed the year off in a solid position, consolidating our place as the leading integrated logistics and materials management provider. The recent securing of contracts is testament to our experienced team and strong performance record at ASCO.
"We are capable of providing an integrated end-to-end solution and we continue to be aligned in our aim to build an exceptional reputation within the global energy market. Our customer-centric approach plays a pivotal part in the increase of work and our expansion into new markets and locations.
We aim to lead the way as the industry moves towards a net zero future, and the plans that we have in place will remain supportive of our objectives of operating more efficiently and sustainably, offering low carbon services and solutions to our clients."
Despite challenging market conditions, ASCO has shown great resilience, bringing changes to its operations, launching an Operations Control Centre (OCC) to improve service delivery and drive efficiencies whilst firmly executing its sustainability roadmap to achieve a 30% CO2 reduction target by 2024. The company has also successfully diversified into the new energy market, currently supporting multiple wind projects in the UK and a blue ammonia production facility in Norway.
As the essential partner for global energy materials and logistics management, ASCO works with the world's largest operators to deliver safety and service excellence, while remaining focused on sustainability across all operations. As digitalisation and modernisation are at the heart of ASCO's operations, the Group's innovative processes and systems mean the company is at the forefront of driving supply chain efficiency.
Contact us to learn more about our services here.