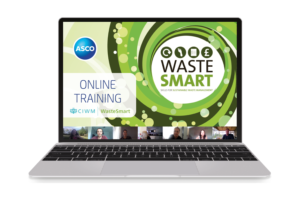 Never has it been more important for us to make more informed decisions in materials management and reduce the environmental impact of our operations.

ASCO Waste Smart training is delivered in association with Chartered Institute of Waste Management (CIWM) to help companies create a more sustainable working environment, to ensure safety and compliance along with greater cost control.

The course provides a detailed understanding of:
1. Waste as a resource
2. The environmental impact of waste
3. The cost of managing waste
4. Understanding and applying the waste hierarchy
5. Legislation and compliance

You will benefit from ASCO's expertise and experience during the course with added emphasis on oil and gas waste.
About the Virtual Event
Topic: ASCO Waste Smart Virtual Training
Date: June 22, 2022
Time: 9:00am - 1:00pm

Book your place here.